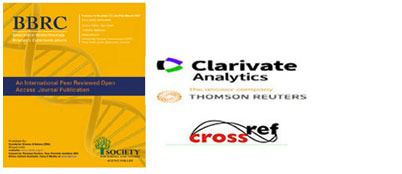 Biosc. Biotech. Res. Comm.
P-ISSN: 0974-6455 E-ISSN: 2321-4007 CODEN: BBRCBA
Publishers: Society for Science and Nature Bhopal India
CrossRef DOI: http://dx.doLorg/10.21786
Published Every Three Months: Jan-Feb-March,  April-May-June
July-Aug-Sep and Oct-Nov-Dec
Editors Communique
Greetings!
Bioscience Biotechnology Research Communications is an open-access international platform for publication of original research articles, exciting data based meta-reviews, interesting case histories, novel perspectives and opinions in applied areas of biological and biomedical sciences.
It aims to promote global scientific research and development via interactive and original scientific communications in these  areas.
The journal in a short span of time, has become a favourite among biologists and biomedical experts in the Asia-Pacific region and wider international scientific community, because of its standard and timely schedule of publication. 
Bioscience Biotechnology Research Communications has been able to help scholars to present their cherished fruits of research grown on toiled and tilled trees of hard work in life sciences.
Being the single publication of a non-profit Society for Science and Nature, Bhopal India, since 2008, Biosc Biotech Res Comm strongly believes in maintaining high standards of ethical and quality publication. The journal strictly adheres to the guidelines described in the Principles of Transparency and Best Practice in Scholarly Publishing.
On behalf of  Biosc. Biotech. Res.Comm.   I as an Editor have the privilege to thank its reverend readers, contributors, reviewers and well-wishers who have helped it to achieve the distinction of entering  the 14th year of successful publication, carving a niche of its own.
Quality publication is one of the ways to keep science alive, and good journals have a leading role to play in shaping science for humanity!
As teachers, we have great responsibilities, we have to advocate our students to accomplish and show them the path to test their mettle in hard times to excel, especially in the post COVID 19 era.
If the zeal and enthusiasm are correctly infused into students, fundamental science will never take a back seat.
We have to fuel our science students with a never say die attitude!
Amicably yours
Editor-in-Chief
Prof. Sharique A. Ali
PhD FLS FRSB (UK) UNESCO ROSTCA FELLOW
Ex-Cooperating Scientist, USDA International Program
Virginia State University Virginia USA
Professor and Head Department of Biotechnology
Saifia College of Science,Barkatullah University Bhopal India
Journals Website:   https://www.bbrc.in
Editors   Website:   http://www.drshariqali.com
See Publications of The Editor